2012, will of course be remembered in Britain as the year the Olympics came, but although The Big Chill has been cancelled as well as Glastonbury, due to the clash with the Olympics, this has nothing to do with an issue of lack of port-a-loos to share between. However, let's not let ourselves forget about the one thing the summer is always good for; music festivals. For music lovers looking to broaden their horizons from the normal sell out festivals, such as Reading, Leeds, Download, Isle of Wight, Bestival, Sonisphere, Creamfields, Global Gathering, Lattitude and V Festival; this blog will look into some new festivals to look out for in 2012.
Parklife is a 2 day music festival held in Manchester Platt Fields Park on June 9th & 10th and is going into its 3rd year as a 2 day weekend event after starting as a one day event in 2010, keeping at an affordable price of £64.50 for a weekend ticket. The festival is run by a collaborative of Manchester based promoters from the wharehouse project, mad ferret, metropolis, ape and the deaf institute. The festival has grown rapidly, after creating such a friendly and buzzing atmosphere in the first 2 years, pulling in a large young audience, featuring lots of students celebrating the end of term. This year they are playing host to a wide range of music, from exiting bands and artists to some of the biggest DJs and dance acts to create a diverse mix of music to cater for the fun loving crowds they are becoming known for.
This years line up consists of The Flaming Lips, Dizzee Rascal, Nero, Noah And The Whale, Justice, Crystal Castles, Labrinth, Chic ft Nile Rogers, Aelea Banks, Kelis, De La Soul, Fresh, Buraka Som Sistema, The rapture, Spector; plus DJ sets from Pendulum, Zane Lowe, Annie Mac, Sub Focus, High Contrast, Caspa, Simian Mobile Disco and much more.  The festival is non-camping, so punters will need somewhere to stay overnight if they are travelling a long distance for the festival.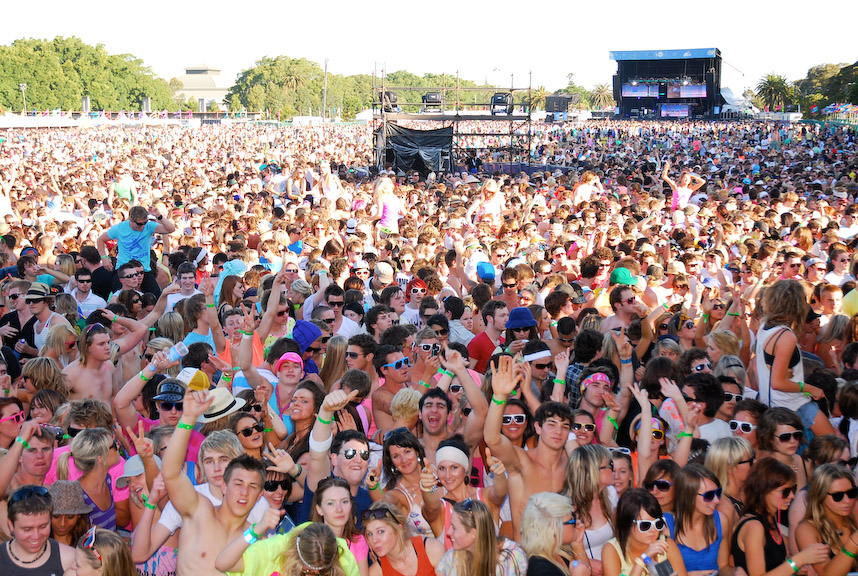 Hide out is a great festival for fans of electronic music, which will be going into its second year this summer after its successful first run last year, taking place the weekend of the 29th June and the 1st July. The 3 day festival is located in the beautiful sunny Croatia, set on the beach meaning it packs all the thrills of a holiday and a festival into one. After making such an impressive impact on the festivals debut, they have managed to confirm a very strong line up for 2012, with names on the bill that are huge in the world of electronic music, some legends and some of the biggest acts at the moment; artists and DJs on the bill, to name a few, include one of dub steps most famous duos – Skream and Benga, drum and bass veterans Andy C and Shy FX, Chase and Status, High Contrast, Annie Mac, Sub Focus, Skrillex, Simian Mobile Disco, SBTRK, Erol Alkan, Jack Beats and many more top acts.
The festival is set at £99 a ticket. Festival goers have the option to either book a hotel (starting at £17.05 pp/pn for 2 stars up to £28.25 pp/pn) and as of this summer, there will also be the option to camp. Going to a festival abroad is also a great opportunity for a stop of for those who are planning to do some travelling over the summer.
Nova Is a brand new festival for the summer of 2012, created by 2 of the founders of The Big Chill, taking place from the 5 to the6th of July in Bignor Park West Sussex. The festival states that it sets out to be independent and intimate in its first year, focusing on big ideas along with all the small details. The line up has yet to be fully released but is one to look out for in the future, based on the success the promoters have had running The Big Chill in previous years. They are planning on offering a wide range of break through artists, as well as more familiar and well known acts to create a mix where people will be able to see some artists they already know, plus discovering new artists in the most fun way of doing so, by seeing them perform live at a festival. It also promises other exiting things as well as the music, to make it a unique festival, as they 'focus on big ideas and small details' bringing in ideas such as strange night walks, hot tubs, flash mobs and their own pub to fully integrate and engage the punters with the festival allowing them to have a lot of fun discovering new music as well as taking part in original activities, which they wouldn't usually expect from a festival.
So far they have confirmed artists such as Ghost Poet, Norman Jay, Crazy P, Jono McCleery and Good Times Soundsytem.