By Imogen Reed
Festivals come in all sorts of shapes, and all sorts of sizes. The big festivals, such as Glastonbury and Reading, are reassuring fixtures in the festival calendar. Having been in existence for years, they are not likely to suddenly fold or be refused a licence. These are festivals everyone has heard of and everyone knows what to expect from. However, these are not the only festivals on the scene. Glastonbury started off back in 1970 with 1500 attendees, who paid a pound to get in. The ticket price included a free pint of milk.
Things are very different now with some festival goers prepared to set sail on the Fred Olsen line to see acts play at the oft sold out Norway Rock Festival.  However, if you want to re-capture the spirit of Glastonbury in its early days, there are plenty of smaller festivals around which might fit the bill. Some are newer festivals which may or may not go on to bigger things (as Secret Garden Party has done, growing from 1000 to 26000 capacity in eight years). Others have no intention of growing, their small size being part of their reason for being. Either way, the smaller end of the festival scene is very often the most exciting. Every festival has to start somewhere, so this is where new ideas get tested and sometimes, legends are born.
Croissant Neuf Summer Party, Monmouthshire
Croissant Neuf is one of Glastonbury's most eclectic and oldest stages. The summer party is the stage's own 'breakaway' festival, in a stunning setting in the Welsh hills. There is a strong emphasis on green credentials: Croissant Neuf is a solar-powered stage, and at Glastonbury forms a key part of the Greenfields. Most food is organic and recycling is a must. Families will feel at home, with lots of workshops for kids and adults, and a strong community spirit (especially around the communal campfire). Expect to hear a broad mixture of music, including up-and-coming bands and old favourites. Tickets cost £95, capacity 2000, festival dates 10th-12th August.
Truck Festival, Oxfordshire
Truck Festival has been around since 1998, and like Glastonbury, is located on a farm owned by the people who run it. The festival is intended to be a smaller version of bigger festivals like Glastonbury, with a mixture of rock and dance music. Food is served by the local rotary club, and local beer and cider is available. Truck has that cobbled-together, local feel that the bigger commercial festivals lack. Tickets £69, capacity 5000, festival dates 20th-22nd July.
Glade Festival, Norfolk
Like Croissant Neuf, Glade is a Glastonbury spin-off. The Glade Stage at Glastonbury is a dance stage set in beautiful wooded glade. The Glade Festival offers a heady mix of pretty much any kind of electronic music you can imagine, and a friendly atmosphere which is hard to find at many festivals. Having doubled its capacity this year, it is a bit of a stretch to call it a small festival. However, it makes the list because its ethos is most definitely 'small festival', with a strong emphasis on community spirit and fun in the countryside. Tickets £135, capacity 10,000, festival dates 14th-17th June.
Loopallu, Scotland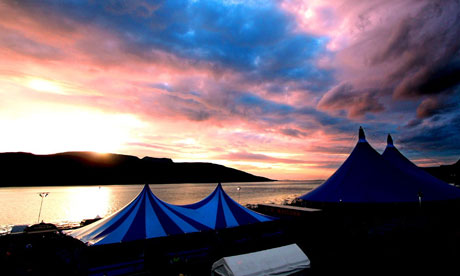 Loopallu is (of course!) in Ullapool, a remote town in western Scotland. It would hardly be the first choice of venue for most festival organisers. However, the location on the shores of Loch Broom, with festivities spilling over into the local village pubs, makes for a unusual and diverse festival experience. The organisers started Loopallu because they wanted to put on a festival in their home town, while giving back something to the community. It's certainly worked, and the festival has attracted names like Franz Ferdinand and the Stranglers in the past. Tickets £75, capacity 2500, festival dates 21st to 22nd September.
End of the Road, Dorset
End of the Road is a friendly, varied festival that really does have something for everyone. It is almost like a mini-Glastonbury, with so much going on, everywhere you look. As well as a varied music line-up, you'll find comedy, art, cinema and even a woodland library. That said, it is a music-focussed festival, with an emphasis on strong programming and with most bands playing longer sets than is standard. There is a strong green ethos, with most of the food stalls being fairtrade, organic or both. Tickets £150, capacity 5000, festival dates 31st August to 2nd September.